Date: 03/29/2019
As your USA Water Polo Southeast Zone Chair, I have been graciously asked to offer you a very unique opporuntiy to participate in a special event to support a charitable organization dedicated to all teaching children how to swim and be safe in the water .
Florida Swim School is the proud recipient of the 2018 grant from The Mac Crutchfield Foundation. Funds from this grant provides free swim lessons to children in local group homes, orphanages, and other children's organizations.
This year is the 11th fundraiser and the first time in Boca Raton. The weekend of April 6-7 will include VIP Meet & Greet with Olympians, Aquatics Clinics with Olympians in swimming, diving, and water polo, plus a brunch and auction. Attached is event information for your to share.
www.maccrutchfieldfoundation.com
The Mac Crutchfield Foundation was set up to honor the life and passion of Mac Crutchfield. Mac tragically drowned while playing in a downpour near his home. Mac was a dedicated and accomplished swimmer.
In order to keep Mac's passion and memory alive, his family established the Mac Crutchfield Foundation.
OLYMPIANS ARE RAISING MONEY
TO PROVIDE SWIM LESSONS TO
 LOCAL FOSTER HOMES, ORPHANAGES,
AND OTHER CHILDREN'S ORGANIZATIONS. 
There will be a number of function provided here and you are encouraged to be apart of any or all of these. 
1. VIP MEET & GREET with Olympians (Open to Public) April 6,  6-8pm
Location: Renaissance Boca Raton Hotel
2000 NW 19th Street
Boca RAton, Fl. 33431
2. AQUATICS CLINICS (competitive athletes) April 7, 8am-11am
3. BRUNCH/AUCTION with Olympians (Open to Public) April 7, 12-3pm
Location: Saint Andrew's School 3900 Jog Road, Boca RAton, Fl. 33434
Dénes Kemény of Hungary 3X Olympic Coach Water Polo 
Ryan Lochte of USA Olympic Multi-Gold Medal in Swimming
Caeleb Dressel of USA Olympic Gold Medal in Swimming
Randy Ableman of USA 3X Olympic Coach in Diving
Join us to help save lives!
Register Here:
www.maccrutchfieldfoundation.com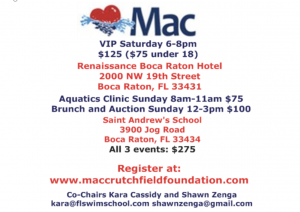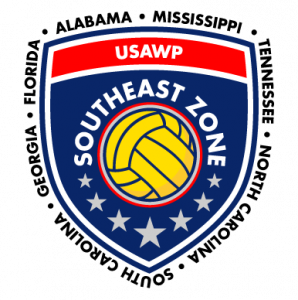 Date: 2/6/2019
Re: Zone Updates
Incident Reports: We have a page now on the zone web page that will allow any member to file a report as to any incident at a sanctioned USAWP event that may be deemed to not be aligned with USAWP codes of conduct.  This would include but not limited to on/off deck behavior. If you witness something questionable fill out the form online at
https://www.usawpsezone.com/reports-and-incendents/
Event/Tournament Promotion: The value is for this is to provide a platform for the publication and promotion of your  event. The costs is $25.00.
Your tournament will be:
 placed on the Zone Calendar.  

featured on the SEZ website.

emailed to the entire Zone, access to over 2,400 members, all water polo players and stakeholders.
Southeast Zone Gear: We are proud to bring you a line of Southeast Zone apparel designed for us by Ryte Sports. Visit this link: https://customteamswimwear.com/collections/southeast-zone  or go directly our to our web site https://www.usawpsezone.com/southeast-zone-store/
Zone Update: As a Zone we have one source of revenue, our Southeast Zone Summer Classic Tournament that was established two years ago. We need other avenues and thus we have established our "Zone Store" and the "Events Promotion" page. These two items are small  and as a board we are working on other ideas and concepts.
One goal we are working towards is planning our 1st Annual Southeast Zone Summit. This will be a weekend event that brings together coaches, athletes, and referees from across the country to participate in coaches development, referee school as well as a players clinic. All wrapped into one weekend away from any other conflicts. This is still in concept phase and as we begin planning a date will established soon.
Another source of revenue is to establish a national level tournament that will be sponsored by USAWP and regarded on the same level as the ones we see in other Zones.
Justification for these income stream is to utilize the Zone money to establish, scholarship and grant programs that will assist players and teams with the costs involved in chasing those Olympic dreams!!
USA Water Polo Zone Chair Summit, General Assembly, and Development Summit: Starting the afternoon of Friday January 25 through Sunday January 27, members of the Southeast Zone Board participated in the Zone Chair Summit, General Assembly, and Development Summit.  Highlights from the Zone Chair Summit and General Assembly included discussions around Junior Olympic tournament competition and roster deadlines, improving communication among the Zones, adoption timeline of the new FINA rule changes ([posted on our website), a review of updated SafeSport Policies, and increasing the USA Water Polo board from 15 members to 20 members.  The Development Summit included a wealth of interesting and useful sessions ranging from mentoring athletes and creating a good team culture to proper goalie training. All these sessions will be available on USA Water Polo's website soon. The General Assembly videos can be found at https://usawaterpolo.org/sports/2018/12/19/community-events.aspx#general or USA Water Polo's YouTube channel.  There is a SE Zone shout beginning around minute 36 of session one.
Kurt Predmore
USAWP Southeast Zone Chairperson
18 January 2019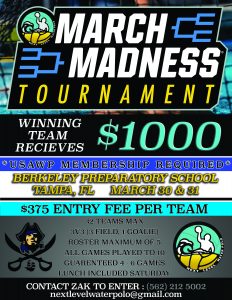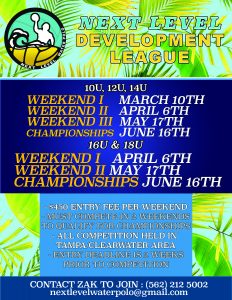 7 January 2019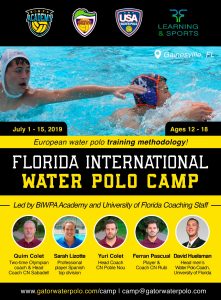 BIWPA, Gator Water Polo, and RF Learning, and the University of Florida, sponsored by RYTE Sport are excited to bring an amazing camp opportunity to the east coast of the U.S. We are inviting athletes from all over the world to partake in camp this year. Coaches will be teaching the best techniques of European Water Polo mixed with the best of the US. We also have an incredibly low coach to athlete ratio, and some of the best coaches in Europe, as well as the U.S. We also have some really fun Florida based excursions planned for campers.
The 2019 Florida International Camp, hosted in Gainesville, Florida.
2 Sessions with a gap weekend:
July 1st – 5th 8:00AM – 3:00PM
Gap Weekend Florida Based Excursions
July 5th – 7th
July 8th – 12th 8:00AM – 3:00PM
Come join us this summer for the camp opportunity of a lifetime! Play Water Polo…For Life!
Camp Information and Registration:
USAWP Appointed Head Referee
priamrosenberg@usawpsezone.com
jeffb@swfloridawaterpolo.org