02/08/2018
02/08/2018 Reminders and Update
Florida High School Water Polo is about to begin with the pre-season underway. Here is a list of FHSAA Tournaments throughout the season. If you are running an event not listed email us and we will add it to our calendar.  Also we have an updated list of USAWP sanctioned events her as well.
All contact information and detail of each event can be accessed through the zone website and calendar at
Feb
16-18 SFWPC International
16-17 Lake Nona HS Invite hosted by Lake Nona HS @Lake Highland Prep Orlando

23-25 Boys ODP Nationals@ Pleasanton CA.

 
March
2-3 Wildcat Invite hosted by Winter Park HS@ YMCA I-Drive Orlando

8-10 Forza Stefano Memorial Invite hosted by PPC@ PPC

8-10 Ian Supra Memorial hosted by Dr Phillips@ YMCA I-Drive Orlando
9-12 Girls ODP Nationals@ Pleasanton, CA
15-17 Bobcat Invite hosted by Boca Raton HS@ Boca HS

16-17 St Patrick Day Invite hosted by Gainesville HS@ Gainesville, Fl.

23-24 Gulliver Invite hosted by Gulliver Prep@ Gulliver
April
6-7  Palm Beach Invite hosted by Saint Andrew's School@SAS

13-14 Ransom Invite hosted by Ransom Everglades School@ RANSOM

16-21 FHSAA District Champs@ various locations
21-22 Dynamo Youth Clinic hosted by Dynamo Masters@ Atlanta,  Ga
24-26 FHSAA Regional Semi and Finals@ various locations
May
4-5 FHSAA Final Four@ Ransom
19 Guy Harvey Beach Water Polo@ Clearwater Beach
June
8-10 SEZ Club Champs and JO Qualifier@ YMCA I-Drive Orlando
22-24 Sunshine State GAmes @ Coral Springs AQC
July
7 Boys Top Gun @ SAS
8 Girls Top Gun @ SAS
All events are on the SEZ Calendar along with contact information. Please go to www.usawpsezone.com
02/01/2018
The Official Athletic Site of USA Water Polo Olympic Development Program, partner of CBS Sports Digital. The most comprehensive coverage of USA Water Polo on the web. Click below for the game schedule and rosters for this year's ODP Championships
Source: USAWATERPOLO.ORG :: Olympic Development Program
12/20/2017
Upcoming events in the SE Zone
12/26-12-29 Winter in the Tropics Water Polo Camp- Miami, Fl. 
12/27-12/30 Holiday Camp- Orlando, Fl.
1/6-1/7 ODP Camp-Boca Raton Fl.
1/12-1/14 Southeast Premiere Water Polo Winter Invitational- Orlando , Fl.
1/21-1/21 South Florida WPC 12U Winter Cup- Pompano Beach, Fl.
2/16-2/18 SFWPC International Tournament- Coral Springs, Fl.
All these events are posted with links and information in our calendar page. Please contact event director concerning entries and information.   
12/13/2017
SFWPC Combine Notes and Results:
Congratulations to 55 of Florida's high school junior and senior water polo players for participating in last weekend's college combine in Pompano Beach! Colleges attending included Brown, Bucknell, CalTech, Connecticut College, Harvard, Fresno Pacific, George Washington U., La Salle, Salem, San Jose State, St Francis (Brooklyn), St Francis University, Michigan, and Washington & Jefferson. Our best to all in the pursuit of their higher education and water polo!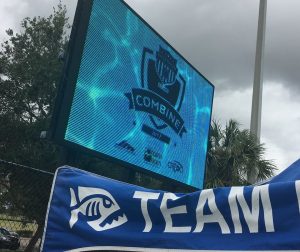 Michael Goldenberg "  
I think overall it was good. But some glitches I have to work on.
Most of the coaches liked it and wanted to know if it is happening next year. A lot of athletes and parents thank me for organizing it.
So, 
December 8 - 9 , 2018
 is the next one. I will make it work.  "
More pics here: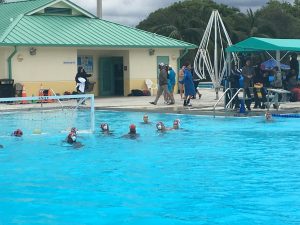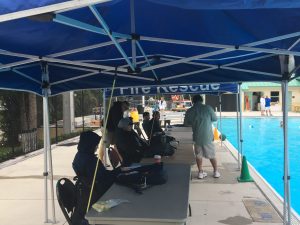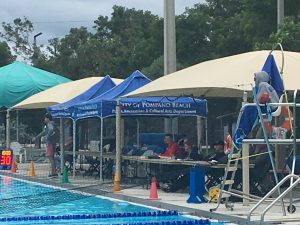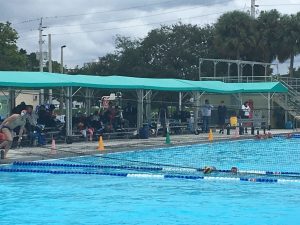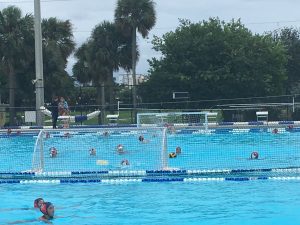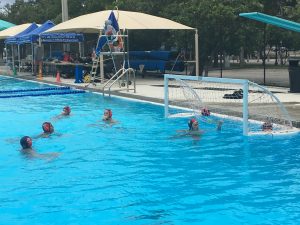 12/07/2017
This weekend Hialeah Storm will be hosting 18U boys teams from Mexico and the Bahamas as well as local team in the Hialeah Storm Winter Invite at Milander Pool in Hialeah. 
The SFLWPC and the SE Zone will also be hosting the first College Combine at Pompano Aquatic Center.  A number of colleges and their coaches will be on deck to see some of our zones  best junior and senior water polo players. Saturday Session is 2-6pm and Sunday is 9am-1pm. 
 12/05/2017 
Please click the link above to nominate an individual whom you thinks is a deserving candidate.    
12/04/2017
Congrats to the following winners of the SE Zone Identification Tournament from this past week-end at Saint Andrew's School
14U Mixed Division : Scots Water Polo  ZIT CHampions
18U Girls Division: Miami Riptides ZIT Champions
18U Boys Division:  Hialeah Storm ZIT Champions
11/13/17 Reminders and Update
The winter club water polo season begins in Florida and HS swim season gears up in Georgia. Here are some reminders of upcoming events. All contact information and detail of each event can be accessed through the zone website and calendar at www.usawpsezone.com
Nov
Florida Water Polo Clinic

Camp/Clinic Description




First Annual Southwest Florida High School Water Polo Clinic





Date:     Sunday November 19, 2017




Ages:    High School Students (Others by approval)




Levels:  We will have 2 groups: Novice and Experienced




Time:     10am – 2pm clinic, 2pm – 4pm optional scrimmage




Where:  Venice YMCA – 701 Center Road, Venice FL 34285




Fee:      $50




Coaches:   Jon Baca & Alex Donis, plus supporting coaches TBD




Coach Jon Baca - Head Coach, Suncoast WP Club; Head Coach, Venice High School; USA Water Polo Certified





Coach Alex Donis - Head Coach, Hialeah WP Club; Head Coach, Hialeah High School; USA Water Polo ODP Southeast Zone Women's Coach





Register By Tuesday 11/14:  

 

www.swfloridawaterpolo.org/register





Call/text 941-447-7670 for more info

24-26 Riptides Julie Zurek Ardilla Tournament
Dec
2-3 ODP Identification Tournament*

9-10 Hialeah Winter Classic

9-10 South Florida Combine**

27-30 Holiday Camp hosted by Orlando United WPC
Jan
6-7 ODP Camp at SAS***

12-14 SEP Winter Tournament
Feb
16-18 SFWPC International
All events are on the SEZ Calendar along with contact information.
*ODP
We will be running an ODP identification tournament in Dec where we will invite teams to compete in the ODP age groups both boys and girls. This will be a 3-4 game/team event in a round robin format. The purpose is ODP Staff to identify potential athletes and offer an invitation to them to attend the ODP Zone selection camp in January. This replaces one of the two camps in Florida yet increase playing opportunities for teams. If a team is not involved and there are kids that still want to be identified we will put together teams in a random draw to compete. An ODP coach will step in to guide them through the tournament. We will be securing a facility and posting it online within the next few days.   
**ODP Camps
There will be one more camps for you to attend in Boca Raton, FL. You may register for those camps at any time through www.usawaterpolo.org.
*** South Florida Combine
This event will be hosted by South Florida WPC and will be held at the Pompano Beach Aquatic Complex. All inquires will be directed to Michael Goldenberg email: igolden438@aol.com
23 October 2017
SFWPC Combine has more college coaches committed to the combine. Here is the list as of 23 November : 
Bucknell University, 
CAL-Tech 
San Jose State
Washington Jefferson
Fresno Pacific
George Washington
Brown
St Francis
La Salle 
University of Michigan
16 October 2017
Water Polo Combine at Pompano Beach Aquatics Center: 

priamrosenberg@usawpsezone.com
scottennis@usawpsezone.com
nickgaffey@usawpsezone.com
matttomlinson@usawpsezone.com