Date 05/21/2019
Next few events in the Zone are:
2019 SE Zone Summer Classic / NJO Qualifier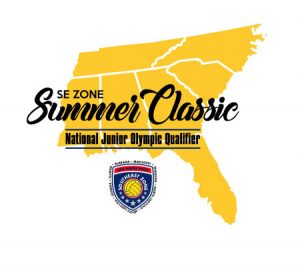 1. The SEZ Summer Classic
Dates: 8-9 June 2019 (Registration Deadline is 1 June 2019)
Location: Orlando YMCA
Host Team: YCF
Divisions: 12U mixed, 14U Boys, 16U Boys and Girls, 18U Boys and Girls.
Trophies and Medals will be awarded to the top 3 teams in each division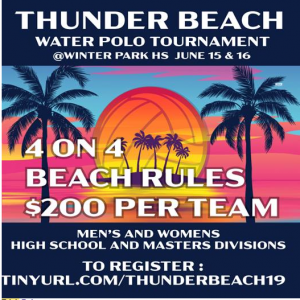 2. Thunder Beach Water Polo Tournament
June 15-16  2019
Beach Rules in a Pool
at Winter Park High School
Registration is NOW Open!
Teams
www.tinyurl.com/ThunderBeach19  
Individuals wanting to enter the draft.
https://tinyurl.com/ThunderBeachDraft19
Team Entry is $200 must be paid by June 9th.
If paid in full by June 4th - Team members will receive a Tournament T-Shirt
Divisions: Using High School Graduation as break
Girls 2020 or after
Boys 2020 or after
Womens 2019 or before
Men's 2019 or before
*Limit 12 team in a Division Register now to hold your space, pay before June 9th.
Beach Water Polo Rules - Short version

4 on 4 - A team can have up to 5 on a roster

Played the short way across the pool

Games are a series of 3 games to 5 with a time limit

Flying Subs

Ejections is a swim out then return to play

Goalie puts ball in play right after goal

No Shot Clock, only a running game clock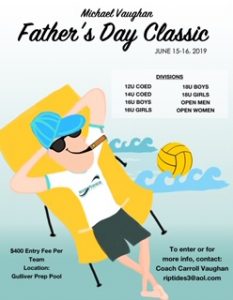 3. Michael Vaughan Father's Day Classic
Date: 15-16 June 2019
Location: Gulliver Prep School, Miami, Fl.
Host: Miami Riptides
Contact: riptides3@aol.com    Carroll Vaughan
4. Riptides Summer Invitational
Date: 29-30 June 2019
Location: Gulliver Prep Pool, Miami, Fl
Host: Miami Riptides
Contact:  riptides3@aol.com  Carroll Vaighan
5. Sunshine State Games
Date: 21-23 June
Location: Coral Springs Aquatic Complex, Pompano Beach Aquatic Complex
Host:  Florida Sports Foundation, South Florida Water Polo Club
Contact: annarosenjp@gmail.com   Anna Rosen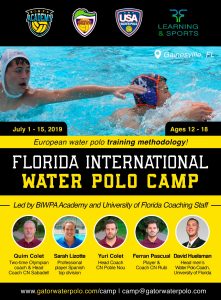 6.  BIWPA, Gator Water Polo, and RF Learning, and the University of Florida, sponsored by RYTE Sport are excited to bring an amazing camp opportunity to the east coast of the U.S. We are inviting athletes from all over the world to partake in camp this year. Coaches will be teaching the best techniques of European Water Polo mixed with the best of the US. We also have an incredibly low coach to athlete ratio, and some of the best coaches in Europe, as well as the U.S. We also have some really fun Florida based excursions planned for campers.
The 2019 Florida International Camp, hosted in Gainesville, Florida.
2 Sessions with a gap weekend:
July 1st – 5th 8:00AM – 3:00PM
Gap Weekend Florida Based Excursions
July 5th – 7th
July 8th – 12th 8:00AM – 3:00PM
Come join us this summer for the camp opportunity of a lifetime! Play Water Polo…For Life!
Camp Information and Registration:
USAWP Appointed Head Referee
priamrosenberg@usawpsezone.com
jeffb@swfloridawaterpolo.org